Personal Info
Name:
Kisuke Urahara
Age:
Unknown
Visible age:
Early thirties
Gender:
Male
Appearance:
Kisuke Urahara is a tall light-skinned man with messy, light-blond (almost pale) hair and gray eyes that are usually shadowed by his hat. He always wears traditional Japanese wooden sandals (geta) and a bucket hat, which has earned him the nickname "sandal-hat" (ゲタ帽子, geta-bōshi; "Mr. Hat-and-Clogs" in the English dub). He also wears a dark green shirt and pants, topped with a black coat with a white diamond pattern along its bottom half. It should be noted that his coat is designed to look like the opposite of a captain's haori (white with black diamonds). Urahara has also been known to carry a fan which he uses to occasionally hide his face.
During his earlier years as a captain, he wore the standard Shinigami uniform, the long-sleeved captain's haori, and his geta during his more casual events.
Personality:
Although he is usually seen as a laid-back, jovial fellow, Urahara also shows a deceptively cunning and serious side when the situation warrants it. He commonly uses idle conversation and outward concern as an act of distracting his opponents.[2] Despite his care-free attitude, he always speaks politely, but is sometimes sarcastic. Yoruichi Shihōin even notes that he tends to go over the top with whatever he becomes passionate about. He once described himself as a "mere honest, handsome, perverted businessman."
Approximately 110 years ago, Urahara's personality is the direct opposite of what he is today, showing the changes he went through in the human world. During his earlier years as a captain, he is viewed as a nervous, flustered, and quiet person. He is even somewhat unsure of himself and lacks confidence in his ability to be a good leader. In addition, he is commonly shown to be confused with how to deal with his squad, and is easily overwhelmed by his lieutenant, Hiyori Sarugaki. Despite being uncomfortable in his role, he seems relatively at ease in his previous position at the 2nd Division Squad. However, he eventually hardens his resolve to take on his role as captain by becoming more serious and determined.
Urahara can usually be found near the scene of an important event (albeit arriving late sometimes), however he rarely intervenes in situations, preferring to stay on the sidelines. He often tends to know more information then he lets on, and although being a major player he acts only as a catalyst, having others do the work for him.
Marital Status:
Single
Sexual preference:
Straight
Division:
Ex-12th
Rank:
Captain
Zanpakuto Information:
Name:
Benihime
Appearance: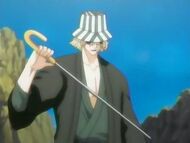 When sealed, Benihime takes the form of a shikomizue (a blade hidden inside Urahara's cane). Because it resides in a cane, its hilt is still the handle of the cane, so it looks different from most Zanpakutō.[137] Flashbacks of when he served in the Gotei 13 show that Benihime was originally sealed in an ordinary katana-form with a oval-shaped crossguard and black hilt-wrapping.[138] The shaft of the cane also bears a skull and flame mark at its base, much like that of the Shinigami glove, also capable of separating a soul from the body
Type:
Kido
Released Zanpakuto Information:
Release Phrase:
"Awaken"
Looks: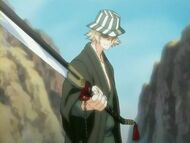 Description:
Shikai Special Ability: Benihime is capable of producing various crimson-colored energy techniques. Kisuke can perform these abilities of Benihime's by a variety of different verbal commands that corresponds to its different abilities.[142][143][144]
Benihime's Nake technique.
Nake, Benihime (啼け紅姫, Sing, Crimson Princess; "Scream" in the English dub): This technique is Benihime's offensive ability. It fires particularly strong and destructive crimson-colored energy blasts. He is also shown to control these blasts, and can even change the shape, size, and intensity of them. This ability was powerful enough to match Ichigo's improvised Getsuga Tenshō without tiring; and easily cancel out Cero and Bala blasts from the Espada Yammy Llargo by striking it head-on with this attack after he was able to study the amount of power it took to use it.[145][146]
Chikasumi no Tate.
Chikasumi no Tate (血霞の盾, Blood Mist Shield): Benihime's defensive ability forms an hexagonal-shaped "blood mist shield" in front of Urahara. The barrier is called out with the same command as the offensive attack. The barrier is able to easily block a direct punch from the immensely strong Yammy Llargo with no repercussions to Urahara[147] and block Ichigo's first use of his Getsuga Tenshō while only slightly eroding, after which Urahara comments that he would have lost an arm were it not for the shield.[148][149]
Benihime's Shibari technique binding Aizen.
Shibari, Benihime (縛り紅姫, Binding, Crimson Princess): This technique condenses the energy generated by Benihime into the form of a tangible blood red net, generated from the blade length and simply thrown over the intended target (typically from above) with a simple slashing motion from Behinime. The net further binds and restricts an opponents movements by constricting to its form. This net appears elongated and somewhat narrow.[150]
Benihime's Hiasobi technique combining with Shibari...to create Juzutsunagi
Hiasobi, Benihime, Juzutsunagi (火遊 紅姫 数珠繋, Fire-Playing, Crimson Princess, Beaded Mesh): Upon using the Shibari technique Urahara stabs the net generated by the technique with the tip of Benihime creating orbs of fire along the outside length of the net, which explode like linked land-mines in a domino formation leading toward the intended target that is bound under the net. When the orbs come into direct contact with the intended target it creates a tremendously large and devastating explosion.
Bankai Information:
(
NOTE:
Bankai can only be used by strong Lieutenants and Captains.
)
Description:
It has not yet been revealed
Looks:
It has not yet been revealed
History, RP Sample and RP Challenge.
History:
Before he became a captain in his own right, Urahara grew up at the Shihōin Mansion in the Seireitei of Soul Society, with his childhood friends Yoruichi Shihōin and Tessai Tsukabishi.[3] He joined the Gotei 13 along with Yoruichi, and eventually became the 3rd Seat of the 2nd Division under her leadership. As part of his duties, he also headed the Third Unit of the Onmitsukidō, the Detention Unit.[4]
Urahara receives the news of his recommendation as Captain.
Approximately 110 years ago the 12th Division captain, Kirio Hikifune, was promoted to the Royal Guard. As a result, Urahara was recommended by then-2nd Division captain Yoruichi Shihōin to take Captain Kirio Hikifune's place. Prior to presenting Urahara with the news of the open position, Yoruichi had a sparring session with Urahara at the Sōkyoku Hill training space. She informs him that she had recommended him for the position and retires back to the 2nd Division barracks. Urahara then spent the day wandering around Soul Society, talking with the citizens and playing with the children. During this time he was being spied on by Suì-Fēng, Yoruichi's bodyguard. After the day was over, Suì-Fēng arrived back at the 2nd Division Headquarters to find Urahara already there talking with Yoruichi, where she was then told that Urahara will be taking the captain proficiency exam, to which Suì-Fēng stands in disbelief.
Suì-Fēng accuses Urahara of being slothful.
Yoruichi confirms it and further asked that Suì-Fēng attend the exam as well. She explained that normally only captains are allowed to attend but that she had asked special permission to allow Suì-Fēng to attend. Suì-Fēng was at first confused about why she should attend but Yoruichi tells her there no need to keep secrets as she knows she was attracted to Urahara, though Suì-Fēng denies it, Yoruichi explained that she knows all about how Suì-Fēng had been following him around all day. Suì-Fēng admitted that she was following Urahara around but tells her it was to prove that he was lazy and slothful and not worthy of Yoruichi's praise. Suì-Fēng handed her note to Yoruichi, who reads them and comments on how detailed they were. When Urahara doesn't deny any of the information in the report, Suì-Fēng was shocked that he would be so truthful to his seemingly-unprofessional actions. Yoruichi was unsurprised and quips that Urahara never changes and also praises Suì-Fēng for her intelligence-gathering skills. At first, Suì-Fēng was happy until she realized that Yoruichi had regarded the notes, not as intelligence information but rather as a love letter. Suì-Fēng was reasonably distressed and Yoruichi laughs it off and tells her to loosen up as she wasn't serious.
Urahara releases his Reiatsu, defeating the deserters single-handedly.
They were then interrupted by the arrival of a squad member, who delivers the message that the people Urahara had been looking for have been found, though Suì-Fēng comments that if he doesn't return in time, it will put a strain of the 2nd Divisions' reputation as well as that of Yoruichi. Yoruichi simply dismisses it and tells Urahara to hurry off to his duties and tells Suì-Fēng to come along to help prepare for his captain's proficiency test. Urahara and his men proceed to a remote area where Shinigami defectors were hiding, Urahara tells his men to wait as he enters the building by himself. He then released his advanced spiritual pressure and single handily defeats all the defectors with only Hakuda.[5]
Kisuke Urahara during his days as the 12th Division captain.
After successfully passing his exam, he became the captain of the 12th Division of the Gotei 13. As for his lieutenant, he inherited Hikifune's lieutenant, Hiyori Sarugaki. Later that day, Urahara formally introduced himself to the 12th Division and to Hiyori. She flat-out tells him that she will not accept him as her captain, slapping away Urahara's hand, surprising him. Hiyori stated that she already can't stand the fact that Captain Hikifune left without prior notice and that they now have to deal with a 2nd Division member as their captain, making note of the the fact that he was Onmitsukidō so he was most likely a sneaky murderer. When the other 12th Division members try to warn her that she was going too far, Hiyori fires back that she was only saying what they were all thinking, though the other 12th Division members refuse to side with her opinion. When she confronted Urahara, trying to get a rise out of him, he simply laughs it off and tells her that he had already been made the captain of the 12th Division. He then explains that he had already made up his mind that the role he will play as their captain and no longer a member of the 2nd Division. Urahara told Hiyori if she had a problem it's hers to change, Hiyori then proceeds to kick him in his crotch, which doesn't affect him at all.[6] Later the following night Captain Shinji Hirako of the 5th Division approaches Urahara and tells him why Hiyori was giving him problems and gives him advice on how to best go about being a captain. He then remarked to Urahara that he can tell he isn't the type who does what other people tell him anyway so it doesn't matter what he says. Either way, Shinji explains that he felt Urahara was a type just like him, so he should just meddle in his own business.[7]
While walking around the 12th Division Barracks, Hiyori becomes irate when she finds the division moving the vast amount of Urahara's personal items. She then gets into another confrontation with him when he tries to be of aid to her. The following day at a division meeting, Urahara details that he had decided to change the policy of the 12th Division, but had yet to determine what course of action he thinks would be a good role for them. Hiyori becomes increasingly angry upon hearing that he was still thinking about it and attacks him. Hiyori then goes and confronts Urahara and challenges him to a fight, which he accepts but asks that they fight hand-to-hand. They prepare to fight and Urahara tells her to attack him from any angle. Upon hearing this, Hiyori goes running at him and kicks him square in the face, although it is shown that Urahara was able to dodge the attack, but instead allowed Hiyori to hit him so as not to embarrass her in front of the other division members present.[8] The following morning, Hiyori arrives at the captain's chamber and becomes enraged at how Urahara had changed the room from its former state. He tries to calm her down and tells her that, in getting to know him, he will get to know her. Not deterred, Hiyori attacks him, but he brushes it aside and asks her to to accompany him to the Maggot's Nest.[9]
Urahara, accompanied by Hiyori, goes to the 2nd Division grounds, where he proceeds to explain to her what the detention unit was and what truly happens to those found under their jurisdiction. He further explains what the Maggot's Nest was and what function it serves. Upon entrance into the facility, Urahara tells her that they are not permitted to leave but they are still free within the facility. He then warns her to be careful as the inmates can become violent. Hiyori asks what they did and Urahara plainly tells her nothing causing Hiyori to question the methods but Urahara quickly explains to her the dangers these inmates can bring and why they were imprisoned. He makes note of the true dealings of what happens to those who withdrawal from service in the Gotei 13. Urahara then explains that though the people in the facility are possibly dangerous, he had always felt that given a suitable outlet they could channel their power into something more productive. When one of the inmates tries to attack Hiyori she realizes she can't fight as she left her Zanpakutō behind, the inmate was easily stopped by Urahara who apologizes as he noticed she left her Zanpakutō behind and chose to say nothing, he then makes note that in the facility they are not allowed to carry weapons so hand-to-hand combat mastery was key.[10] This prompts the other inmate to attack, but Urahara easily defends himself and takes out all his attackers much to Hiyori's surprise.[11] Urahara then tells Hiyori they were going to meet the only inmate that was so dangerous he requires his own cell, Mayuri Kurotsuchi. Urahara then asks him if he wants to leave the Maggot's Nest.[12] Mayuri and Hiyori get into a small argument where Urahara explains that she was his lieutenant and then asks Mayuri for an answer to his proposition. He then explains that in his capacity as the captain of the 12th Division he had decided to make an organization the Shinigami Research and Development Institute, and that he want him to be its Vice-President.[13]
12th Division as they appeared 100 years ago
9 years after his promotion there were reports of people disappearing in the forests of Rukongai. That morning Urahara, Hiyori and Mayuri were greeted by Shinji and his lieutenant Sōsuke Aizen. While Shinji engages in a childish fight and argument with Hiyori, Aizen asks Urahara if he had heard the news to which Urahara tells him he hasn't. Shinji proceeds to take up the tale and tells Urahara about the series of strange deaths having taken place in Rukongai. Shinji also informs him that the 9th Division had been sent to handle the investigation.[14] Later that night Hiyori gets into a argument with Mayuri and calls for Urahara to settle the situation. He explains to her that with the disappearances occurring he had created a new type of Gigai. Before Hiyori can respond they were interrupted by the arrival of Todō the 6th Seat of the 9th Division. Urahara agrees to send a researcher over to the investigation site as per the request of Captain Kensei Muguruma of the 9th Division. Urahara elects Hiyori to go to the site, to which she becomes irate and asks why can't he send someone less important, referring to lab assistant Akon. He questions if she should continue being a lieutenant prompting Hiyori to attack him though he simply dodges her. Reluctant Hiyori gives in once Urahara explains that she was the only one that he can trust with the task.[15]
Fearing for his lieutenant's safety, Urahara requested to follow the special investigation team, only to be harshly denied by Captain-Commander Genryūsai Shigekuni Yamamoto.[16] As a result, Urahara decided to disobey Yamamoto and tried to pursue Hiyori himself with a cloak that could hide his spiritual energy. Before he could leave, however, Urahara was spotted by the current Kidō Corps captain, Tessai Tsukabishi. Although he knew Urahara's plans to defy Yamamoto's orders, Tessai joined him in the search due to his intuition that something bad was going to happen.[17]
Urahara rescues Shinji Hirako.
Later that night, Urahara and Tessai made their timely arrival to stop the 5th Division lieutenant, Sōsuke Aizen, from dispatching his captain. Following the event, Urahara asks Aizen what he was doing there. Aizen plainly answered that he happened to be there upon the situation to help his injured captain. Urahara knew that he was deceiving him as he stated that there were no injuries on the victims; He noted that they were inflicted by a process called "Hollowfication". Surprisingly being happy of Urahara's successful deduction, Aizen proceeded to leave the scene of the crime with his henchmen, stating that "there's nothing more to do there". To stop them from retreating, Tessai performed a high-level Kidō spell against them, only to be countered by Aizen's own, allowing them to escape.[18]
Urahara and Tessai Tsukabishi tend to a fallen Shinji.
With the criminals long gone, the duo was left to tend to Shinji and the rest of the victims who were deep in process of Hollowfication. After Urahara admitted that he could possibly help them at his lab, Tessai resolved to use a forbidden Kidō spell to transport them to the 12th Division barracks. In his lab, Urahara tried to reverse the process using his created item, the "Hōgyoku". Unfortunately, it ended up as a failed process, not having the desired effect Urahara expected.[19][20]
The next day, Urahara and Tessai were arrested under the orders of the Central 46. It immediately became evident that they had been set up by Aizen, but were given no right to defend themselves and prove their innocence. As a result, they were quickly sentenced with Urahara being sentenced to become Human and to be exiled to the Human World for "committing crimes against researching and invoking forbidden phenomenon" and "deceiving and inflicting grievous injury to fellow Shinigami" and Tessai was sentenced to life imprisonment in a Level 3 detention area for "using forbidden Kidō techniques".[21] However, before any of their sentences could be executed, both were rescued by Yoruichi Shihōin, who brought them to a secret underground area.
In the secluded area, she berated them on how mad she was for not letting her in on their plan and went on to explain that she had brought the eight Hollowfied Shinigami, along with the prototype for the new Gigai that Urahara was working on. With that epiphany, Urahara resolved to make ten Reiatsu-blocking Gigai to aid him, Tessai, and the eight victims escape to the Human World, where they would find a way to undo the Hollowfication process.[22]
RP Sample:
"Ah yes another fine day at the shop" Kisuke said beaming as he flung open the doors to his shop letting the sun shine in. He was excited to wake up so early on a wonderful day, until he turned around and noticed all his workers were gone.
"Jinta, Ururu! Where are you?" his voice asked shouting, but not in anger...yet. As he searched the shop, he couldn't find any sign of the two children. "Tessai, have you seen those two around here?" Kisuke called to the back of the store. However no response came, scratching his head he walked to the back of the store.
'How odd, Tessai isn't here either' Urahara thought as he walked back to the store's front, just in time to notice the three sneaking down a side alley. "Wait" he screamed as he rushed off after them.